Our worship is both rooted in Presbyterian tradition and inclusive of contemporary and creative expressions of faith as well. Our preaching and teaching emphasizes God's abundant love for all people, exemplified in the life, death, and resurrection of Jesus Christ. We gather at 10am every Sunday throughout the year.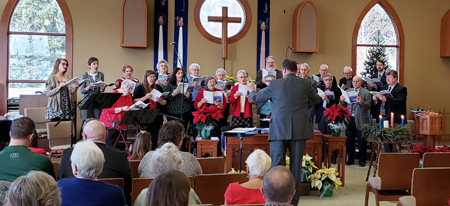 Sunday worship lasts approximately one hour and includes prayers, singing, a time for youth and children, Bible readings, music from the choir or our own or guest musicians, a message from our Pastor, and a time of offering. We celebrate Communion on First Sundays. As Presbyterians, all who profess faith in Jesus Christ are welcome at our table to partake in the bread and juice.
Congregation members and friends are invited to take part in leading worship as they are comfortable. Both children and adults are invited to take part in leading prayers, reading scripture, collecting the offering, greeting people, singing in the choir, offering special music, adding art and photography to our worship space, and more.
Worship at First Presbyterian is intergenerational with children welcome throughout the worship service. Children are invited to participate in a variety of ways, including all the roles mentioned above. During the second part of our worship service there is an activity offered in our Pray Ground. This is tied to the scripture passage of the day and is intended to help our younger worshippers understand God's Word.
We follow a traditional church calendar, observing the seasons of Advent, Christmas, Epiphany, Lent, Easter, Pentecost, and Ordinary Time, as we move through the year. Special services are offered during the week for Christmas Eve, Ash Wednesday, Maundy Thursday, and Good Friday. We have special Sunday observances for Epiphany, Easter, and Pentecost during our regular 10am Sunday Worship.