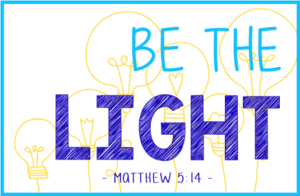 Blessing of the Devices for Back to School
As we start this unique school year, Pastor Kathleen has put together a special "Blessing of the Devices" for families. This is based on material from the Association of Presbyterian Church Educators, and particularly the work of Kari Morgan.
Our blessing is based on Jesus' statement from the Sermon on the Mount, which says:
14 "You are the light of the world. A city built on a hill cannot be hid. 15 No one after lighting a lamp puts it under the bushel basket, but on the lampstand, and it gives light to all in the house. 16 In the same way, let your light shine before others, so that they may see your good works and give glory to your Father in heaven.

Matthew 5: 14-16, NRSV
To hold your own Blessings of the Devices at home this week, here is a potential family prayer time: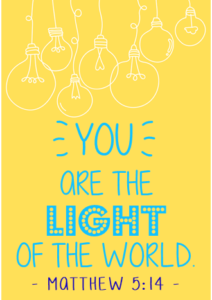 Gather your School Devices. What will you be using to connect with your teacher and classmate this year? An iPad? A Chromebook? Another device? Parents and caregivers are welcome to add their devices into the mix too!
Watch the "Blessing of the Devices" video together. Join Pastor Kathleen in saying the prayer for our devices by putting your hands on your devices.
Print out either the "Be the Light" or the "You are the light of the World" image from this page and post it by your child's work space as a reminder that God is with them in this year. And that they can shine with God's light!
If you would like to add more and make this a full home prayer service, you could do the following:
Open by gathering your devices and also light a candle as a reminder that God's light is always with us.
Read the full passage of Matthew 5: 1-16 from your Bible. You could take turns reading, or have one person read the full passage. With older kids, you could discuss the fact that Jesus is Blessing people we would not ordinarily think of as blessed. As a family talk about the ways you are feeling blessed even in the middle of these very difficult times.
Watch the "Blessing of the Devices" video together. Join Pastor Kathleen in saying the prayer for our devices by putting your hands on your devices.
Close your prayer time by singing "This Little Light of Mine" together as a family. If you would like a video with sing along lyrics, try THIS ONE.
Confirmation Class to Begin in October
We will be starting our 2020-21 Confirmation program in October. Our confirmation program will include both online and socially distanced programs. We are seeking both students and adults who wish to support and encourage our confirmation students. If you are interested in taking part in confirmation please contact Pastor Kathleen. This is available for youth in 5th grade and older, and supporting adults of all ages.
COVID-19 SHUT DOWN UPDATES
During the Covid-19 disruption we are offering no direct education opportunities. Pastor Kathleen has put together the following list of resources for families to use for faith formation at home:

Carolyn Brown is putting together home worship services for families to do on their own each week on her blog, Worshiping with Children. You can find one for the upcoming week by looking in the website date index.
Godly Play has videos on their YouTube channel that tell various Bible Stories for kids. These are in a "Mr. Roger's" style, very slow, with lots of time to pause and reflect built in.

A group of pastors has also decided to put together their own series of daily YouTube videos for kids on the channel "Faith Finder Fun." These are short and give a good thought for the day, or activity for home.
Flyaway Books is a children's publisher tied to the PCUSA. They have a wide range of children's books available that address a variety of social and emotional needs as well as Bible Stories. Their resources page also provides a variety of activities you can do at home.

These are not faith related, but very good resources for those navigating this pandemic with kids. PBS and the CDC both have excellent and extensive pages on talking to kids about Covid-19.
Anti-Racism Resources for Families
As we all work to address the growing push for reform in our country, our children are asking great questions! If you need assistance in talking to your kids about racism, here are a few tools.
Oregon Public Library has a good "Tough Topics for Parents & Caregivers" page with several options for parent education as well as links to great lists of books for various age groups.
Jennifer Harvey who writes on Anti-Racism work from a White Christian perspective has a new book, Raising White Kids. There is a recent NPR interview where she highlights some key points in just a few minutes.
Pastor Kathleen is working to build our available resources here. If you have more to share please let her know. Also, check back as this will be updated.