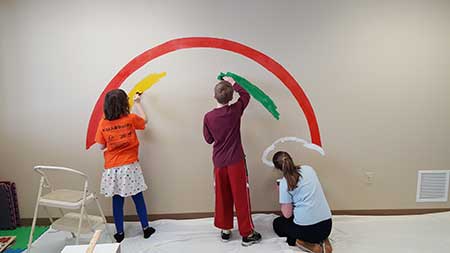 Children and Youth are welcome in all aspects of church life. At FPC, we value the gift of being together in an intergenerational community. Our worship involves all ages and children are welcome throughout the service. We have a Pray Ground in the sanctuary where activities are led to help our elementary-aged children understand our scripture and lesson of the day during the sermon.
Specific education events for children and youth are offered occasionally throughout the year, as ideas and energy arise. These may include summer Vacation Bible School, Advent study and preparation around a Nativity play, or a special kids program tied to one of our mission initiatives.
Our youth group also meets as ideas and energy arise. Recent youth group events have included a lock-in with service activities, working together to design and film a video for this website, and gathering to go worship and serve dinner at PresHouse on the UW-Madison Campus. The youth are encouraged to be active participants in the life of the congregation, serving in worship, on committees, and helping with the Pray Ground and other activities for younger children.
COVID-19 SHUT DOWN UPDATES
During the Covid-19 disruption we are offering no direct education opportunities.  Pastor Kathleen has put together the following list of resources for families to use for faith formation at home:

Carolyn Brown is putting together home worship services for families to do on their own each week on her blog, Worshiping with Children. You can find the one for this week HERE.

Illustrated Ministry is also sending out free resources for use at home each week. Check out the weekly Opportunities for Discipleship email to download these.

Godly Play has videos on their YouTube channel that tell various Bible Stories for kids. These are in a "Mr. Roger's" style, very slow, with lots of time to pause and reflect built in. HERE is one on Lent. HERE is one that puts Jesus' whole life from Christmas to Easter.

A group of pastors has also decided to put together their own series of daily YouTube videos for kids on the channel "Faith Finder Fun." These are short and give a good thought for the day, or activity for home. 

These are not faith related, but very good resources for those navigating this pandemic with kids. PBS and the CDC both have excellent and extensive pages on talking to kids about Covid-19.