Sunday Mornings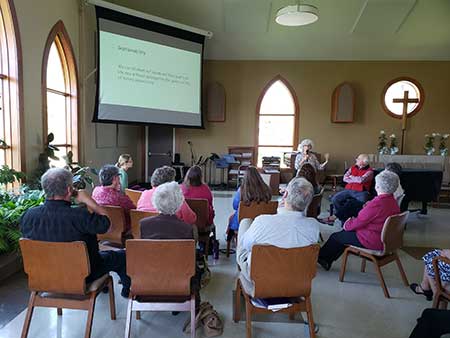 Speakers and presentations are often offered following worship from 11:15-Noon on Sunday mornings. A variety of topics are covered, new ideas are always welcome. We often have presentations that relate to the current mission work of the congregation or to hear from organizations we support. At other times our education is designed to support a topic or series we are exploring in Worship.
Education Opportunities During the Pandemic
Our regular Sunday morning education is suspended while we are meeting virtually. However, education opportunities continue! We are currently working on putting together a series that will pick up on the study we were doing on Martin Luther King Jr.'s "Letter From a Birmingham City Jail" and roots of racism in our nation, which was interrupted by the Covid-19 outbreak. This study will resume with a mixture of online videos and Zoom meetings in late July.
Please check our Weekly Announcements for a list of what we have coming up!
You are also invited to explore education opportunities on your own. Here are some ideas:
You can sign up to receive a daily devotional email. Suggested source: d365.org
You can check out the online PCUSA Mission Yearbook to read stories of how others are witnessing to God's love.
Check out the resources and videos available through the PCUSA Facing Racism page.
Go find an online worship service from a different church, one that is outside of our tradition, and perhaps your comfort zone. What do you learn in seeing God's Word presented in another way?
Bible Studies
There are two adult Bible Studies offered at FPC:
Friday Morning Bible Study meets on 1st & 3rd Fridays at 10am, for prayer and study, September through May. This study is currently exploring the Book of Revelation, using the study guide, "Journeys Through Revelation: Apocalyptic Hope for Today" from Presbyterian Women. Participants take turns leading each session with the help of the study guide and each other. This study is currently suspended and will resume when it is safe to do so.
Tuesday Evening Bible Study meets Tuesdays at 7:00pm.  This is a periodic study that will usually meet every other week for a series of five to seven sessions on a particular topic. The study is led by Pastor Kathleen. To join our Bible Study list please CONTACT US.