Sunday Mornings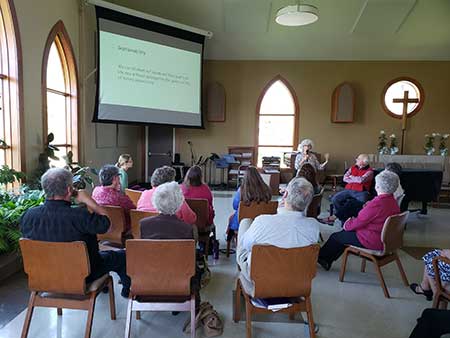 Speakers and presentations are often offered following worship from 11:15-Noon on Sunday mornings. A variety of topics are covered, new ideas are always welcome. We often have presentations that relate to the current mission work of the congregation or to hear from organizations we support. At other times our education is designed to support a topic or series we are exploring in Worship.
Recent Adult Education presentations include:
Rev. Kerri Parker speaking on the work of the Wisconsin Council of Churches
Dana Ames speaking on her recent trip to Guatemala with Outreach for World Hope
Randy Glysch and Jenna Jacobson speaking on the Oregon Housing Coalition's work for Affordable Housing in our Community
Melissa Mendl speaking on Liturgical Dance (including opportunities to join in and move!)
Please check our Weekly Announcements for a list of what we have coming up!
Bible Studies
There are two adult Bible Studies offered at FPC:
Friday Morning Bible Study meets on 1st & 3rd Fridays at 10am, for prayer and study, September through May. This study is currently exploring the Book of Revelation, using the study guide, "Journeys Through Revelation: Apocalyptic Hope for Today" from Presbyterian Women. Participants take turns leading each session with the help of the study guide and each other.
Tuesday Evening Bible Study meets Tuesdays at 7:00pm.  This is a periodic study that will usually meet every other week for a series of five to seven sessions on a particular topic. The study is led by Pastor Kathleen. Currently we are exploring connections between Scripture and Theology and meeting via Zoom. To join our Bible Study list please CONTACT US.